How to manage time? Time management is a billion dollar term. We all know that 99% of the world's wealth is with 1% of the people. So, what do these 1% people do that they are counted in greats? And I am not saying they are few in numbers. There are about 7 billion people in the world. So the 1% would be 70,000,000. These are a lot of 0s, well, it's 70 million. All of 7 billion people get 24 hours to spend each day, not if someone dies, I know. But what makes these 70 million people different than the remaining 99% is what they do in 24 hours of the day. This is a million dollar equation.
Researchers, neuroscientists, neuropsychologists etcetera have been working to figure out the magic they are able to create and it all comes down to this equation.
We get 24 hours each day, means 24*60 = 1,440 minutes, which further is 86,400 seconds. So if you sleep for 8 hours/day you still have 16 hours which is 57,600 seconds. What we do in this remaining time makes the difference.
In order to win the life, you have to start winning your time. if you are able to use 2 hours a day positively, in a year you would have unitized 730 hours, which is about 30.41 days. So, suddenly you have one extra month. This is how they use their time.
With all the great inventions science has been able to make, they have not been able to create time & probably will never be able to. So we have to make use of what we have. So I am going to give you a few tricks where you can magically save your time. You will have to make some sacrifices for sure because you can not climb the ladder of success with your hands in the pocket.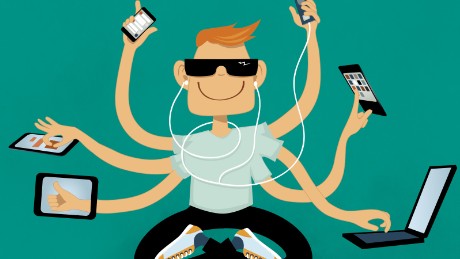 Stop Watching that damn TV
Do you know how much time we spend watching TV in our whole life? An average American spends 4.3 hours watching TV every day. So if someone has lived for 60 years, the person would have roughly spent about 10 years watching that TV. Do you know what difference you had made in 10 years? Facebook was founded in 2003. By 2012, Facebook was worth $104 billion. This is what happens in 10 years.
2. Start saying No
When I say start saying NO, it means to say no to things, people who waste your time. Say no to your buddies who want to chill with you every evening. Say no to your colleagues who make drinking plans on weekdays, say no to unnecessary phone calls, say no to scrolling through Facebook & Instagram outside of the bathroom. We unconsciously spend about 2 hours scrolling through the social media & we don't realize it yet.
3. Put your phone on silent
Putting your phone on silent saves you from getting distracted by several notifications you get on your phone. These notifications are sent by apps you have installed on your phone. Once they have got your attention, they get paid by one means or the other but what about you. You are distracted.
This is a golden rule. Waking up an hour early gives you an extra edge over other people. 24 days into this habit & you have already earned yourself an extra day. Imagine how many extra days you were able to create in a year, approx 15. You created time, congratulations!
Last but not least!
5. Keep a journal
Keeping a journal handy will help you in a way you never could have imagined. When you start writing your to-do tasks every day, you will be able to manage them effectively. You will be able to prioritize things that are the most important & urgent and de-prioritize others. This will not only save time for you but also get you in a habit where you will be able to decide faster about what to do & what to ignore.
So, this is my list of 5 ways you can manage time effectively. There are hundreds of things you can do but we can always start with the first step. Reach out to me if you need any help.
Adding more after recommendations of a Reddit user. Here' what he wrote:
In my opinion, some keys to time management are:
Schedule your priorities (vs. prioritize your schedule)
What's the difference? Scheduling your priorities means only taking into consideration those things which you need to do as opposed to all the things in the world that have to get done eventually. For example, meeting a client today versus going to the store because you're almost out of orange juice. The meeting needs to happen today, but you can get more orange juice another day, so it's not worth writing it into your schedule. If you scheduling everything, then prioritize it by what is most important, you're going to have tasks on the bottom of your schedule that aren't really important, that you probably won't get to anyways. So you've wasted time writing them down in the first place and your schedule looks unnecessarily long. Now you're stressed because how the hell are you going to get everything on that list done?
Execute your priorities
Once your priorities are scheduled, execute. Take action on them immediately. Don't get distracted by other things. Don't add orange juice to your grocery list. If you complete your priorities for the day and have extra time (or time between priorities), then make a list of those tasks mentioned above that didn't make it to the priority schedule.
Delegate your tasks
Priorities are things you need to do, tasks are things that have to get done eventually. Delegate your tasks to other people so they can be done while you're executing your priorities. Have your wife add orange juice to the grocery list, then ask her to go shopping while you're working.
Hope this is more useful now.